Philip Johnson
Some architects have Style. One can scan the cityscape and pick out their work. Other architects have Grace. While we may not be able to pick their work out of a lineup, they nonetheless are able to consistently deliver nice work. Their portfolio reveals diversity rather than consistency, where grace trumps style. When they are selected for a new project, one cannot predict what their design will look like, only that it will be exceptional! The late Philip Johnson, whose variety resulted from a desire to always be on the leading edge of architectural trends; Renzo Piano, whose work evolves as does technology and the environment; and Michael Graves, who has undergone a couple of architectural conversions, are all architects that fall into this camp - Architects with Grace.
al
Renzo Piano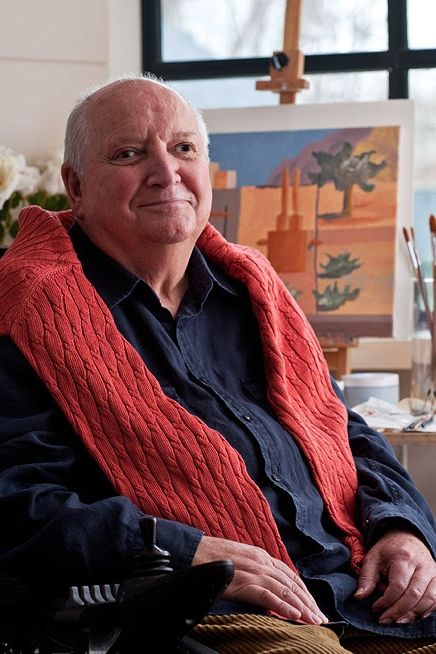 Michael Graves
This post explores the connection between architecture and graceful design, using Michael Graves as an archetype. As with Meier, I first became aware of Graves' work while I was still an architecture student. And like Meier, he was an architect whose work had been popularized after the publication of Five Architects a few years prior. Between the time the book was published and the time I actually read it, Graves had already undergone the first of his architectural conversions.
Hanselmann House 1971
Graves' early work was based on form-based modern principles, inspired by LeCorbusier and other early modernists. A choice example of his early work is the Hanselmann House. It is a geometric composition of lines and planes, solids and voids. It stands out from its context rather than attempting to relate to it. The forms are spare and simple, devoid of ornamentation. It is interesting to note the use of primary colors, suggesting, even early on, that a departure from the white box of modernism was inevitable.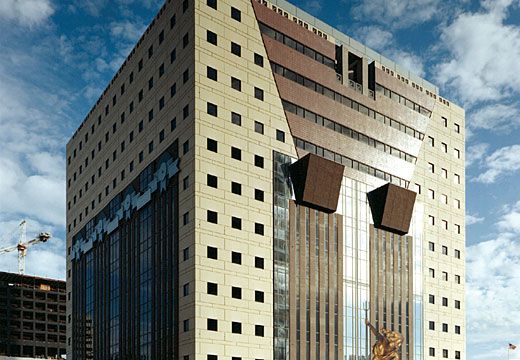 Portland Building 1982
At a time when virtually all large scale commercial buildings were monolithic and geometrically simple glass boxes, the Portland Building was anything but. Embracing theories set forth by Robert Venturi, this building proudly adorned ornamentation inspired by classical buildings of the past. It introduced the use of color on large scale commercial building facades. Rather than attempting to appear light and airy, it was content to be substantial and solid. The Portland Building gave legitimacy to the fledgeling postmodern style which then swept the country throughout the 1980s. Over thirty years later, it remains one of the most polarizing buildings ever constructed. Few are neutral in their opinions, most either love it or hate it.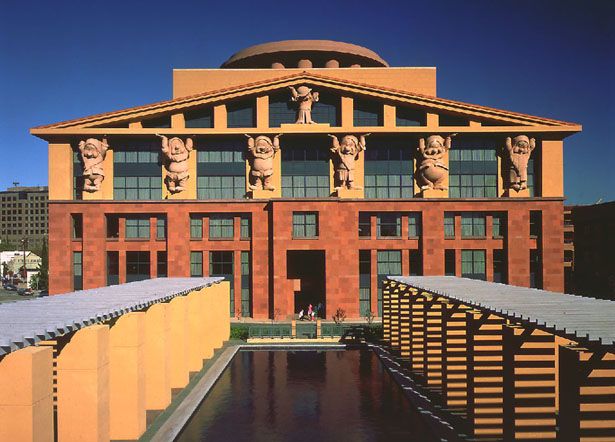 Team Disney Building 1991
Post modernism flourishd for only a few years before the novelty of the new style began to wear off. The style attempted to strike a balance between the classical buildings of antiquity and the modern buildings of the day. Most of public seemed to prefer one or the other. Graves' work continued to retain many of the traits of postmodernism while morphing into a brand of architecture that was less kitsch and more literally classical. Even so he was often able to maintain the quality of wit in his buildings as illustrated in the Team Disney Building, which substitutes dwarfs for columns in an otherwise classically inspired building. The use of color is still present but more harmonious than in earlier work.
Interestingly, a visit to Graves' website reveals current work that seems to be swinging away from classicism and toward a derivative form of modernism. This constantly changing fashion is almost expected in Graves' work, as well as the other architects with grace.
Between this post and the last, we've looked at snapshots from the careers of two of the New York Five. Meier, an architect with style, remained steadfast in his formal aspirations. Graves, an architect with grace, changed (and continues to change) direction, seeking something more spiritually gratifying. The other members of the New York Five chose a path somewhere in between. So, is it better to be an architect with style, or an architect with grace? We'll back away and look at this question from a completely different perspective next time. Join me next time for.....Architects with Crayons!