Eames Lounge Chair & Ottoman by Charles Eames, 1956
Like many architects, I am fascinated with the closely aligned craft of furniture design. In a continuing desire to make the posts on this blog concise, I have chosen to break this subject down into two posts. This post serves as an overview, and focuses the conversation on one particular type of furniture - the chair. The second post will be more of a historical survey and will address with other types of furniture as well. In this post, there are three questions for which I am suggesting possible answers. Why are architects interested in furniture design? What is the allure of chair design to architects? And how successful are the actual end products?
Wassily Chair by Marcel Breuer, 1925
Ladderback Chair by Charles Rennie Macintosh, 1902
Pioneers of early modern architecture were well-rounded individuals who designed much more than buildings. Their training was in the arts and crafts in general, rather than exclusively in architecture. If an architect designed a building, they thought not only about the envelope, but also about what the envelope actually contained. During this time, the late nineteenth and early twentieth centuries, architecture underwent radical transformations, due to the industrial revolution. Some architects, such as LeCorbusier and Marcel Breuer, embraced the new industrial world and experimented with new construction techniques and materials such as steel and glass. Other architects, such as Charles Rennie Macintosh and Frank Lloyd Wright, ushered in a return to the decorative arts, in reaction against the excesses of the Victorian era. Both camps produced buildings that were new and different. Furnishing them with compatible furniture proved to be challenging. So necessity became the mother of invention. The only way to get acceptable furniture was to design it. That is just what they did.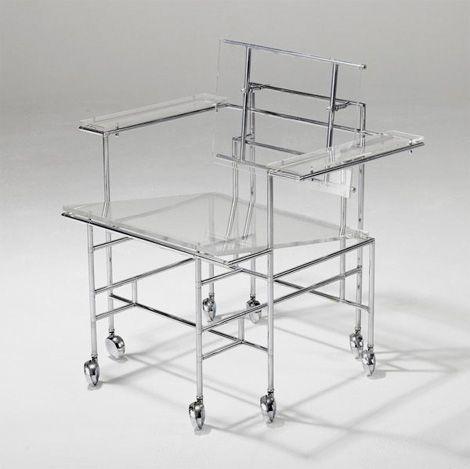 Rolling Armchair by Paul Rudolph, 1968
I am not certain what the appeal of the chair is to the architect. I think there are many contributing factors. The process of creating a pleasing form that serves a particular function is a fundamental skill of the architect, so the process of creating a chair is not unlike the process of creating a building. Architects also like to experiment with materials and shapes. The chair then becomes a natural subject of this experimentation. Finally, because so many of the pioneering architects have designed at least one signature chair, their successors want to do the same. It is considered sort of a right of passage. My wife and I attended a symposium a few years back and one of Paul Rudolph's contemporaries shared a story of Rudolph's desire to make a chair. While a brilliant architect, Rudolph was never able to design a chair with which he, or anyone else, was happy. The closest he ever came was his rolling armchair. The chair, being as gracious as possible, is lacking.
Johnson Wax Chair by Frank Lloyd Wright, 1937
This brings me to my last topic - how successful are these architect-designed chairs? There are a couple of commonly cited objections. The first is that they are simply not comfortable; perhaps too much emphasis was given to form and too little emphasis to function. Certainly this is sometimes the case. Frank Lloyd Wright's Johnson Wax chairs look beautiful in their environment but the secretaries using them constantly complained that they were too hard, the chair back to distant and vertical to support their backs, and their three rolling legs caused them to topple periodically. Other times the issue of comfort is not relevant, as in the case of Charles Eames' lounge chair. This chair is both beautiful and comfortable. Comfort was a key consideration in the furniture Eames created. He was fascinated by anthropomorphics and experimented constantly with molded plywood. This knowledge and skillset allowed him to make chairs that "fit". The only downfall of the Eames lounge chair is another frequently cited objection to architect-designed chairs, the price. This is due, in some measure, to the architect's insistence on quality. It sometimes means that the chairs end up being fabricated from choice materials and crafted more by hand than by machine. Another contributing factor is the fact that most architect-designed furniture satisfies a relatively small niche in the broad furniture market. The (usually contemporary) styling has never had broad public appeal. Lack of a broader market means less efficient production, leading to higher cost. Lastly, and this is the one that is hard for me as an architect to admit: designing chairs is hard! It is a profession all to itself and architects venturing into it usually don't have the experience or expertise to make an all-around successful chair. Some, such as Arnie Nelson, Charles Eames, and Eero Sarannen have been able to design really successful chairs. But if you drill down and look at the successful chairs designed by architects, they have been by architects who have really put a lot of time and effort in furniture design, sometimes at the expense of their building design.
We'll explore a number of examples of architect-designed furniture pieces next time. Please join me again for
Furniture by Architects
.