As discussed in the previous posts, many architects have tried their hand in furniture design. Most never made it off the drawing board, some were made into prototypes, but relatively few ever made it into production. Fortunately, many of these are excellent pieces. This post serves as survey of some of my favorites.
LeCorbusier's Sling Chair, Grand Modele Sofa,
Chaise Lounge, and Low Table
LeCorbusier embraced the "machine aesthetic" in furniture design as well as architecture. He designed furniture using many of the same materials he used in his buildings, namely glass and steel. These he combined with leather and foam to create a wide range of furniture pieces, including tables, chairs, sofas and a timeless chaise lounge.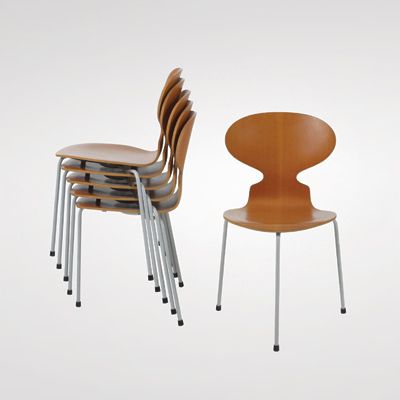 Jacobsen's Ant Chair
Arnie Jacobsen's mid-century classic ant chairs are still in production and available in a number of variations of the originals three legged design. Jacobsen summized that having a single leg in front would minimize the conflict between the leg of the chair and the legs of the seated occupant. Jacobsen is responsible for numerous classic furniture pieces, including the egg chair, the swan chair, and the Series 3300 sofa.
Eileen Gray Side Table, Light Tube, and Bibendum Chair
Eileen Gray is best known as the designer of the classic side table that bears her name. In her time Gray was a well known as an innovative designer of interiors. As an extension of this practice, she also designed furniture and lighting. Her work, long under appreciated, is now much sought after by collectors.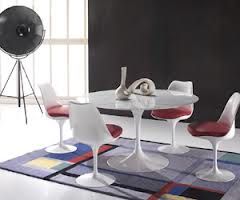 Saarinen's Tulip Table and Chairs
Eero Saarinen, son of the celebrated architect Eliel and textile designer Loja Saarinen, was a gifted designer who began designing furniture while still a teenager. Teamed with another protégée of Cranbrook Academy, Charles Eames, the team won MOMA's Organic Design in Home Furnishings competition in 1940. Saarinen went on to design iconic furniture for Herman Miller, including the classic Tulip Table and Chairs, and the Womb Chair.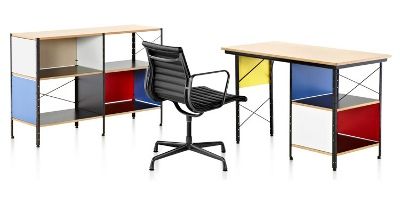 Eames Desk, Credenza, and Executive Chair
Charles Eames, Saarinen's collaborator, also entered a prestigious design career. Charles, the architect, and his wife Ray were designers in the full sense of the word. Together they designed everything from toys and cards to a Case Study house, in which they lived. They were extraordinary designers of furniture for Knoll. Molded plywood and fiberglass shell chairs were followed by colorful storage furniture, refined executive chairs, tables, and chaise lounges. Many of their most popular designs not only remain in production, but remain top sellers.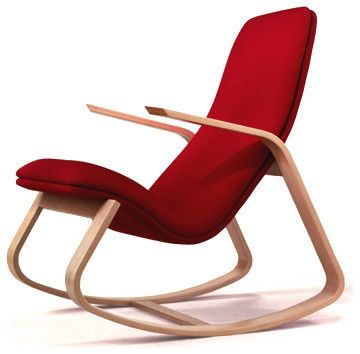 Rapson Rapid Rocker
To round out the Cranbrook designers, I would like to take note of the work of Ralph Rapson. I consider Rapson to be the Forest Gump of Architecture. Though many are unaware of his name, he was instrumental in the advancement of mid-century modern architecture and furniture design. Unlike Saarinen and Eames, Rapson chose to market his furniture under his own label to maintain creative control. A designer to the end, Rapson won a widely regarded furniture competition held by Dwell magazine, shortly before his death in 2008.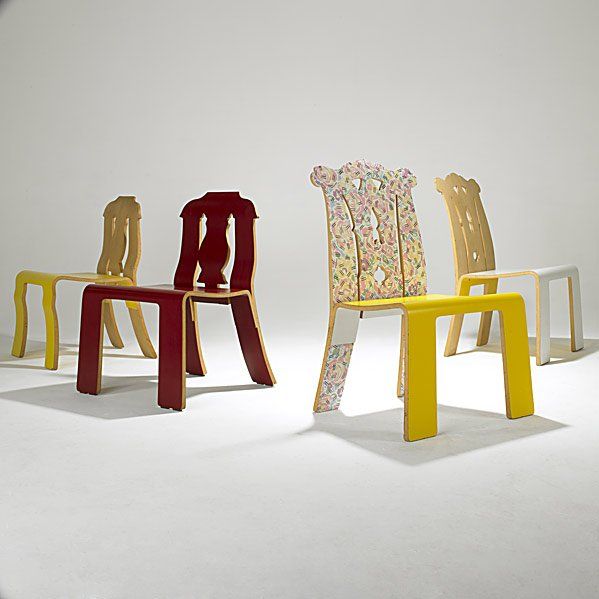 Venturi's Chippendale Chairs
Postmodern architects also delved into furniture design. Robert Venturi challenged the modernist's lack of ornamentation, and introduced color and whimsey into his designs. His most famous pieces remain his collection of tables, chairs, and sofas produced for Knoll in the 1980s. These pieces harken back to furniture styles of the past, such as Chippendale, Hepplewhite, Empire, and even Art Deco - spare forms, historically inspired.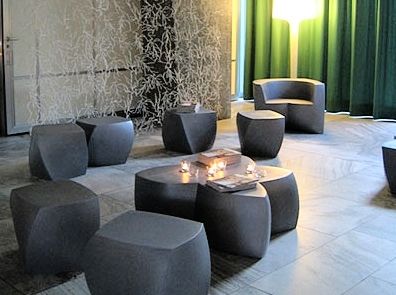 Gehrey's Outdoor Furniture Set
Deconstructivist architects have also tried their hand at furniture design. Gehry's early furniture experimentation with the cardboard squiggle chair mirrored his architectural experimentation with chain link and corrugated steel. Later fame, and the corresponding swelling budgets, have changed the cladding of his buildings to stainless steel and titanium. His furniture has likewise echoed this level of sophistication, as exemplified in his reinforced aluminum pieces manufactured for Heller.
As you can probably tell, I love this stuff and could go on and on..... but I won't. It's time to leave this topic and go on to the next area of exploration - Architecture and Bicycles. No, seriously. Join me next time for Peletons and Break Aways.